LSP Roundtable – Join, Connect, Learn, Grow
Are you interested in connecting with the region's best leaders to learn and grow? The LSP Roundtable is a select group of 10-14 high-performance business owners, leaders, and specialists who find value in gathering each month as a professional peer group. Each member is carefully chosen for their abilities, experience, and track-record-of-success. One simple objective of the Roundtable is to be:
The best day of the month for each participant!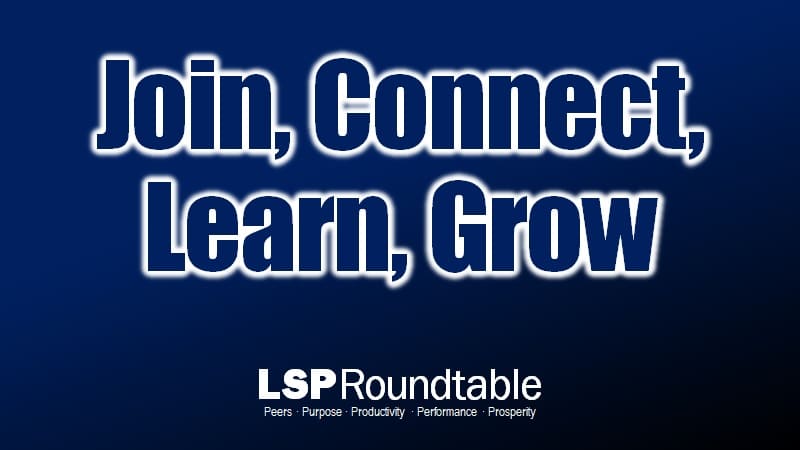 Why a Peer Group?
Throughout history, the world's best leaders have gathered regularly with others to gain knowledge, sharpen their skills, build relationships, establish alliances, and celebrate their success! Various names like "peer groups, masterminds, and roundtables" have been used to describe these meetings. Regardless of the name, the benefit for those who met was peer-group support, cooperative learning, pitfall avoidance, resource sharing, positive encouragement, enterprise growth and prosperity. The Roundtable offers these benefits and more for you today.
"As iron sharpens iron, so one man sharpens another."
There is great wisdom in sharpening, yet many leaders struggle to find others in similar positions who can help strengthen and leverage their impact. They often experience separation from associates as their leadership roles develop and evolve. Increasingly isolated, they miss the benefits that come from genuine relationships with experienced and talented peers who walk in similar shoes. Even if they enjoy some input and feedback from an "internal team", they never gain the advantages and lessons-learned from others outside their comfortable circle of reference.
Peer Power
C.S. Lewis wisely stated, "Two heads are better than one, not because either is infallible, but because they are unlikely to go wrong in the same direction." Knowledge, skills, resources, and options are changing at a mind-numbing pace. The LSP Roundtable gives you access to both sharp minds and priceless relationships with others who are experiencing similar challenges and obstacles as well as opportunities and successes. Like you, they are "in the arena" fighting to survive, thrive, and prosper. This peer power opportunity prompts several important questions:
What are your biggest leadership, strategy, or process

challenges

?
Where

do you go

for leadership advice, help, and feedback?
If you could spend several hours each month with other great leaders,

who

would they be?
FAQs
Click HERE for "Why spend a day with other top leaders?"
Click HERE for "Advantages of the LSP Roundtable over other peer groups."
Click HERE for "Roundtable Lessons Learned."
The Roundtable is a proprietary service facilitated by Rob Marchalonis through LSP123 LLC. Membership in the Roundtable is by invitation only and is typically initiated by referral.  If you know a business owner or leader interested in the power of peer groups or joining the LSP Roundtable, send an email to Rob@LSP123.com or call us at 717-397-3444.